LATINA
LEADERSHIP
INSTITUTE (LLI)
DEVELOPING THE FUTURE
The Latina Leadership Institute (LLI) is the first leadership program specifically designed for Latinas in Kern County. The goal of the Institute is to train Latinas in essential leadership and advocacy skills, empowering them to create fundamental change within their local neighborhoods throughout Kern County.
Latina Leadership Institute (LLI)
LLI has been scheduled to begin in August 19, 2023 through October 25, 2023. The program includes three 1-day trainings, participation/attendance at the Latina Leaders Awards Dinner, a two-hour wrap-up session plus graduation.
Training sessions are intensive half-days and offer a combination of lectures, personal assessments, group work, field
trips, lobbying & advocacy, and networking opportunities. Participants may also be assigned projects in between each session.
The LLI offers participants an opportunity to learn from key community leaders and experts in various aspects related
to our community, including government, education, economic empowerment, and politics & civic engagement.
LLI vision is to create a network of Latinas trained in community empowerment and committed to improving political
and economic parity for all communities. LLI goal is that institute participants represent all major regions of Kern County across a diversity of professions.
Qualifications: Eligible applicants must:
* Be a member of Latina Leaders (paid member)
* Reside in Kern County
* Aspire to be a recognized community leader or committed to developing your leadership potential
* Commit to 100% participation
* Submit application before application deadline (JULY 30, 2023)
Latina Leaders selects participants through a competitive application process and selects a final class of approximately twenty participants.
Participation Commitment: Participants must attend all 3 sessions. Participants are responsible for all travel to and from each session.
Program Costs: There is a $100 program fee for participation in LLI, this includes your ticket to the Latina Leaders Awards Dinner. Applicants may submit a request for waiver of program fee and they will be evaluated on a case by case basis.
Latina Leadership Institute (LLI) Training Sessions
Session 1: Saturday, August 19, 2023
First, we will explore the WHO, WHAT, WHEN, WHERE and WHY of Latina Leadership Institute (LLI).
WHY do we need the Latina Leaders Institute? We will distinguish WHAT makes it different from other leadership programs and focus on WHY we are here. We will focus on the "Ladder of Leadership" that has been critical to our success and will be the key factor in our continued success.
Secondly, before we can set out to impact our community, we need to start by learning more about it. This session will begin with the nuts and bolts of Kern County and the "state of Latinas". WHO are we? How are we faring economically, politically, and educationally?
This session is Latina Leadership 101 – The History of Latinas. In this session, we will explore language issues, Inter-generational issues of assimilation; acculturation, what we give up/lose when we become successful or strive for more, Where do we find support, and Ethnic divisions; Duel ethnicity. We examine the Ladder of Leadership and the meaning of "Just because you've made it, doesn't mean we've made it."
We will discuss some of the challenges associated with Latinas in leadership. We will look at the challenges we face including personal and professional demands. We will also explore some solutions and begin to strategize about ways to create balance, while at the same time maximizing our influence.
Finally, we will measure our political knowledge of our community. We will begin with a historical look at Latinas(os) is Kern County politics. Have we been able to translate our numbers into political power? And we will discuss ways to access that power both in terms of politics and the community.
Session 2: Saturday, September 16, 2023
In this session, we will get personal! This session will focus on developing your personal legacy. What drives you? What motivates you? Are you living your passion? Participants explore the concept of community legacy through ethical leadership and the notion that you LIVE your legacy everyday.
Session 3: Saturday, October 21, 2023
In this session you will explore your WHY and the dynamics of Latina Leadership. What are the hidden sabotages that are stagnating your personal growth and development.
Wrap Up/Graduation: Wednesday, October 25, 2023
This session will also explore ways to get involved in the Kern County community. We will take a look at the different needs in our community and the impact that involvement makes in the overall health of our community. We will explore our social, economic, and political impact in the community and the ways that personal involvement can make a difference.

Graduation: A celebration of you and your sisters!!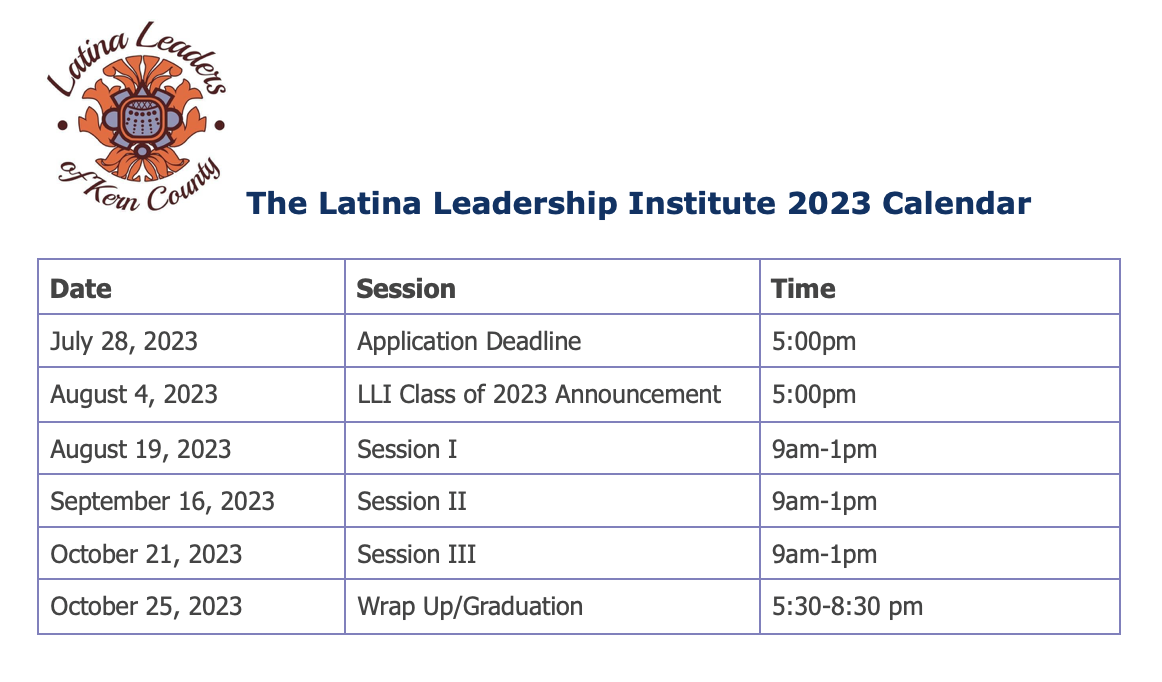 BECOME PART OF THE BIGGER PICTURE AND
Say Hello!
We love hearing from our community and answer any questions you may have about our programs, membership, sponsorship opportunities and more!